---
The International Purchasing and Supply Chain Management Institute is located in Lewes, Delaware, and it has a main operation in the People's Republic of China. Our consultants specialize in supply chain management, including manufacturing production and inventory management, logistics, global sourcing, purchasing / procurement, contract management, and information technology consulting. As companies search for ways to react to intense competitive pressures in the next decade, the firm offers a unique group of integrated dynamic state-of-the-art services to help clients develop high performance capability.
We facilitate the development and execution of plans and processes that reduce delivery time, reduce cycle times, reduce costs, streamline information flow, streamline the organization structure, reduce product development time, quicken the decision making process, and build a cohesive management team.
IPSCMI has a cadre of the best supply chain management consultants in the world today, providing high quality professionalism through the use of experience and innovation. We subscribe to the Institute of Management Consultants Code of Professional Conduct. We provide high-quality professional consulting services that span both technical and cultural issues. We treat technologies as tools in a toolchest, and use them when they offer practical solutions and achievable results. We treat our clients as our highest priority. Everything that we do is client driven and for the client's ultimate benefit.
Through our affiliate offices, we serve North America and Asia , with specialists world-wide in Procurement/Purchasing, Contract Management, Information Technology, Manufacturing Production and Inventory Management, and Logistics Management.
Our consultants provide world-wide clients with:
A global reach of highly competitive services

A broader array of supply chain management and information technology consulting services than each could achieve independently

A superior value for the investment committed

More agility and responsiveness than large consulting firms

An international expert resource pool, and Multi-national/multi-lingual coverage
Please find our In-House Course Trainers List at http://www.ipscmi.org/about/OurExperts.php.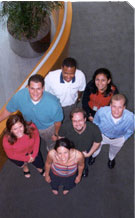 PURCHASING EVALUATION AND BENCHMARKING REVIEW (PEBR)
Our consulting team will take a comprehensive view of your existing supply chain. After full evaluation, we provide a customized solution to guide you with the implementation of time and cost saving improvements. Whether you need minor corrections or a complete overhaul, we will assist you with the corrective process. In addition to locating existing and potential pitfalls, we will assist you with the actual implementation of appropriate solutions. Resumes are the same as China Exchange.